Product Detail
Product Tags
Buyer Reviews
Our staff through skilled training. Skilled skilled knowledge, potent sense of company, to satisfy the provider requirements of consumers for ASTM A213 T92 Seamless Alloy Tube,ASTM A213 T92 Low Alloy Steel Tube For Boiler,ASTM A213 T92 Tubes For Heat Exchangr. "Making the Products of Large Quality" is definitely the everlasting purpose of our enterprise. We make unremitting endeavours to know the target of "We Will Always Hold in Pace along with the Time".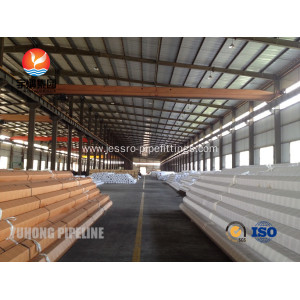 ASTM A213 T92 Seamless Alloy Tube
Chemical Composition(%) for ASTM A213 T92 Low Alloy Steel
| | |
| --- | --- |
| UNS Designation | K91271 |
| Carbon | 0.07–0.14 |
| Manganese | 0.7 |
| Phosphorus | 0.02 |
| Sufur | 0.01 |
| Silicon | 0.5 |
| Nickel | 0.5 |
| Chromium | 10.0–11.5 |
| Molybdenum | 0.25–0.60 |
| Vanadium | 0.15–0.30 |
| Boron | 0.0005–0.005 |
| Niobium | 0.04–0.10 |
| Nitrogen | 0.040–0.1 |
| Aluminum | 0.02 |
| Tungsten | 1.50–2.50 |
| Ti | 0.01 |
| Zr | 0.01 |
| Other Elements | Cu 0.30–1.70 |
Mechanical properties for ASTM A213 T92 Low Alloy Steel
| | |
| --- | --- |
| Tensile strength(min) | 620Mpa |
| Yield strength(min) | 440Mpa |
| Elongation | 20% |
| Hardness, HB | 250max |
Permitted tolerance for OD
OD
Plus tolerance(+)
Minus tolerance (-)
10.29-48.3
0.4
0.4
<48.3--≤114.3
0.79
0.79
<114.3-≤219.1
1.59
0.79
<219.1-≤323.9
2.38
0.79
<323.9
±1%
Wall thickness is average wall or according to ASME SA530.
Notes for Bend Test:
For pipe whose diameter exceeds NPS 25 and whose diameter to wall thickness ratio is 7.0 or less shall be subjected to the bend test instead of the flattening test.
Other pipe whose diameter equals or exceeds NPS 10 may be given the bend test in place of the flattening test subject to the approval of the purchaser.
The bend test specimens shall be bent at room temperature through 180 without cracking on the outside of the bent portion.
Packing:
Packed in wooden crates, wrapped in plastic, and suitably protected for sea-worthly delivery or as requested.
Both ends of each crate will indicate the order no., heat no., dimensions, weight and bundles or as requested.
Delivery:
Pipes are supplied in hexagonal bundles or round bundles tied with steel strip.
Weight of bundle – up to 5000 kg upon request of customer.
Each bundle is furnished with three tags.
ASTM A213 Standard Scope
1.1 This specification covers seamless ferritic and austenitic steel boiler, superheater, and heat-exchanger tubes, designated Grades T91, TP304, etc. These steels are listed in Tables 1 and 2.
1.2 Grades containing the letter, H, in their designation, have requirements different from those of similar grades not containing the letter, H. These different requirements provide higher creep-rupture strength than normally achievable in similar grades without these different requirements.
1.3 The tubing sizes and thicknesses usually furnished to this specification are 1/8 in. [3.2 mm] in inside diameter to 5 in. [127 mm] in outside diameter and 0.015 to 0.500 in. [0.4 to 12.7 mm], inclusive, in minimum wall thickness or, if specified in the order, average wall thickness. Tubing having other diameters may be furnished, provided such tubes comply with all other requirements of this specification.
1.4 The values stated in either SI units or inch-pound units are to be regarded separately as standard. Within the text, the SI units are shown in brackets. The values stated in each system may not be exact equivalents; therefore, each system shall be used independently of the other. Combining values from the two systems may result in non-conformance with the standard. The inch-pound units shall apply unless the [M" designation of this specification is specified in the order.
TABLE 1 Chemical Composition Limits, %A, for Low Alloy SteelA Maximum, unless range or minimum is indicated. Where ellipses (-) appear in this table, there is no requirement, and analysis for the element need not be determined or reported.
B It is permissible to order T2 and T12 with a sulfur content of 0.045 max. See 16.3.
C Alternatively, in lieu of this ratio minimum, the material shall have a minimum hardness of 275 HV in the hardened condition, defined as after austenitizing and cooling to room temperature but prior to tempering. Hardness testing shall be performed at mid-thickness of the product. Hardness test frequency shall be two samples of product per heat treatment lot and the hardness testing results shall be reported on the material test report.
YUHONG GROUP deal with Austenitic Stainless Steel, Nickel Alloy Steel (Hastelloy , Monel, Inconel, Incoloy) seamless and welded pipe and tube already more than 25 years, every year sell more than 80000 tons of steel pipe and tube. Our client already cover more than 45 countries, Like Italy, UK, Gernmany, USA, Canada, Chile, Colombia, Saudi Arabia, Russia, Korea, Singapore, Austrial, Poland, France , ....And our group branch company and factory have been already approved by : ABS, DNV, GL, BV, PED 97/23/EC, AD2000-WO, GOST9941-81, CCS, TS, CNNC, ISO9001-2008, ISO 14001-2004.

Our goal will be to satisfy our clients by offering golden provider, great cost and top quality for ASTM A213 T92 Seamless Alloy Tube. The product will supply to all over the world, such as: Turkmenistan,Egypt,Canada. We pay high attention to customer service and cherish every customer. We have maintained a strong reputation in the industry for many years. We are honest and work on building a long-term relationship with our customers.