Product Detail
Product Tags
Buyer Reviews
We believe in: Innovation is our soul and spirit. Good quality is our life. Shopper need to have is our God for Alloy 600 UNS N06600 Inconel 600 Tubing Nonmagnetic High Temper,Inconel 600 ASME SB167 Seamless Tubing,Alloy 600 ASME SB516 Tube. and we also provide fantastic OEM providers to numerous famous brands.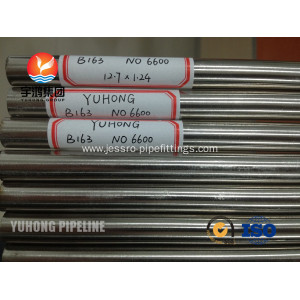 Detailed Product Description
| | | | |
| --- | --- | --- | --- |
| Standard: | B167, B163, B516, B517 | Grade: | Inconel600, NO6600, 2.4816 |
| Size: | OD:3MM TO 530MM ,WT:0.2MM TO 60MM, L:MAX 50M | PACKING: | Ply-wooden Case Or Iron Case |
Alloy 600 UNS N06600 Inconel 600® Tubing Nonmagnetic High Temperature
Description
Alloy 600 is a nonmagnetic, nickel-based high temperature alloy possessing an excellent combination of high strength, hot and cold workability, and resistance to ordinary form of corrosion.
This alloy also displays good heat resistance and freedom from aging or stress corrosion throughout the annealed to heavily cold worked condition range.
Corrosion Resistance
The high chromium content of alloy 600 raises its oxidation resistance considerably above that of pure nickel, while its high nickel content provides good corrosion resistance under reducing conditions.
This alloy exhibits high levels of resistance to stress and salt water, exhaust gases, and most organic acids and compounds.
Heat Treatment
Alloy 600 is not an age hardening alloy; cold working is the only available means of hardening. Softening by annealing begins at about 1600°F (871°C), and is reasonably complete after 10 to 15 minutes of heating at 1800°F (982°C). Above this temperature, grain growth may be objectionable, although very brief heating at 1900°F will cause complete softening without undue grain growth. Since the rate of cooling has no effect on the softening, the material may be water quenched or air cooled.
---
Workability
Hot Working/Forging
Low sulfur reducing furnace atmospheres should be used in forging. Major hot working should be done between 2300/1850°F, while light working may be continued as low as 1600°F. No hot working should be attempted between 1600/1200°F due to lower ductility in that range.
Machinability
Alloy 600 is machinable in both the hot worked and annealed conditions. Because considerable heat is generated in machining this alloy, high-speed steel, cast nonferrous or cemented carbide tools should be used. The tools should be kept sharp.
Lathe turning speeds with high-speed and nonferrous tools are 35/45 sfm (0.18/0.23 m/s); speeds with cemented carbide tools are 100/175 sfm (0.51/0.89 m/s). (This data should be used as a guide for initial machine setup only. The figures used are averages. On certain work, the nature of the part may require adjustment of speeds and feeds.)
Sulfur-based oil should be used as a lubricant, but should be completely removed before the machined part is exposed to elevated temperatures, as in welding.
Cold Working
For higher properties, alloy 600 can be cold worked below 1200°F (649°C).
Welding
Alloy 600 can be joined by the usual welding , brazing, and soldering process.
Typical Mechanical Properties
Typical Mechanical Properties
Various forms and conditions
Form
and
Condition

Tensile Strength

0.2%
Yield Strength

% Elongation
in 2"

%
Reduction
of Area

Rockwell
Hardness

Rod and Bar
Cold-drawn
Annealed
As-drawn
Hot rolled
Annealed
As-rolled
Hot-finished
Strip
Annealed


80-100
105-150
80-100
85-120
80-120
80-100


552-689
724-1034
552-689
586-827
586-827
552-689


25-50
80-125
30-50
35-90
35-90
30-45


172-345
552-862
207-345
241-621
241-621
207-310


55-35
30-10
55-35
50-30
50-30
55-35


70-60
60-30
70-60
65-50
65-50
----


65-85B
90B-30C
65-85B
75-95B
75-95B
84B max.
Average Room Temperature Tensile Data
Form

Condition

Ultimate Tensile Strength,
Ksi (MPa)

Yield Strength at 0.2% offset,
Ksi (MPa)

Elongation in 2 in. (50.8mm)
or 4D, percent

Sheet
Plate
Bar/Billet
Sheet, Plate, Strip, Bar

Annealed
Annealed
Annealed
Annealed

98 (676)
95 (655)
95 (655)
80 (550)*

42 (290)
41 (283)
41 (283)
35 (240)*

40
45
45
30*
* - minimum
| | | | | | |
| --- | --- | --- | --- | --- | --- |
| Sheet/Plate | Round Bar | Pipe | Tube | Fittings | Forgings |
| ASME SB-168 AMS 5540 | ASME SB-166 AMS 5665 | ASME SB-167 ASME SB-829 ASME SB-517 ASME SB-775 | ASME SB-163 ASME SB-516 ASME SB751 AMS 5580 | ASME SB-366 | ASME SB-564 AMS 5665 |
Applications
Some typical applications are:
Barge and tank truck liners
Carburizing atmospheres
Ethylene dichloride crackers
Furnace trays, mufflers, hangers
Gasoline stabilizer production
MgCl2 evaporates
Phenol condensers
Soap manufacture
Titanium dioxide
Vegetable and fatty acid vessels
Well-run products, skilled income group, and better after-sales products and services; We have been also a unified massive family, all people stick with the business price "unification, dedication, tolerance" for Alloy 600 UNS N06600 Inconel 600 Tubing. The product will supply to all over the world, such as: Falkland Islands (Malvinas),Tanzania,Monaco. Due to our good goods and services we have received good reputation and credibility from local and international customers. If you need to have more information and are interested in any of our products be sure to feel free to contact us. We look forward to becoming your supplier in the near future.